Note:  This remote has been discontinued by the manufacturers.
The genuine replacement for this model is the Merlin M842 Remote.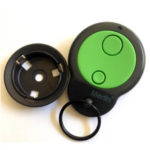 ---
Compatibility List:
Merlin M844 remote (now discontinued)
This remote is a natural progression from the identical M802 remote.  Colour coded due to the Governments frequency change, it has continued to break new ground boosting performance figures.
Use of the remote is primarily meant for the sun-visor mount but can be used in the hand.