The BFT Deimos Ultra BT A600 Motor for Sliding Gates includes:
DEIMOS ULTRA BT A600 Operator 24 V for sliding gates up to 600 kg in weight
4 x 1m rack – mounted limit assembly
Mounting Plate
2 x Security Keys
Magnet Limit Switch
Installation Accessory Pack
Installation Instructions
Free Standard Shipping Australia-Wide*
2 Years Manufacturers Warranty*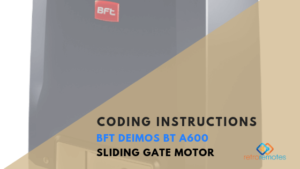 available in kit
The BFT Deimos Ultra BT A600 Sliding Gate Kit comes with operator 24V for sliding gates up to 600kg in weight.  Leaf Spead 12m/min.
Features:
Magnetic Limit Switch
U-Link
Simplified Programming with scenario display
removable terminal boards with new colour standard
integrated two-channel receiver
D-Track based antisquashing system
Slowdown during opening and closing
Pedestrian passage
People-present operation
Maintenance Warnings
D-Track
Aquiring data from several indicators, it updates the level of thrust required to perform the operation.  BFT control devices record the slightest variation in the gate or door force, for example due to differences in temperature or wear, constantly supplying the optimum torque to the motor.  The BFT system thus guarantees the maximum safety and perfect functioning of the equipment, no matter what the climactic and temperature conditions and degree of mechanical wear.
Magnetic Limit Switch
This type of limit switch ensures safe and precise installations in any ambient condition
ULink
U-Link ensures an absolutely stable standard, correct communication, as well as secure data protection thanks to two levels of encryption.