The BFT Phobos BT A40 Double Motor Kit for Swing Gate includes:
2 x Phobos Swing Arms
2 x Mounting Brackets
2 x BFT Remotes 433Mhz
2 x Batteries
2 x Magnetic Limit Switches
Installation Accessory Pack
Installation Instructions
Free Standard Shipping Australia-Wide*
2 Years Manufacturers Warranty*
The BFT PHOBOS BT A40 Double Swing Gate is for residential swing gates with maximum weight of 500kg each arm.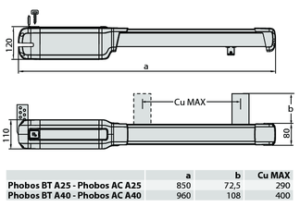 Features:
eeLink
er Ready
Rolling Code
D-Track
Obstacle Detection
Magnetic Limit Switch and Pin
D-Track

Aquiring data from several indicators, it updates the level of thrust required to perform the operation.  BFT control devices record the slightest variation in the gate or door force, for example due to differences in temperature or wear, constantly supplying the optimum torque to the motor.  The BFT system thus guarantees the maximum safety and perfect functioning of the equipment, no matter what the climactic and temperature conditions and degree of mechanical wear.

ER-Ready

BFT systems use Rolling Code technology to control their motors.  The ER-REady microprocessor technology allows any MITTO remote control to be cloned in a MITTO REPLAY remote control.    This means that the original remote is used to teach future remotes the rolling code making for easy coding of additional remotes.

eeLink

This system developed by BFT allows handheld programmers (Unipro, Uniradio and Proxima) makes it possible to transfer data from automatic systems to PCs and vice versa.  This also can be used for securely tracking necessary personal details with the system including owner's address and details, names of maintenance technicians and names of each remote control holder.

Magnetic limit switch

The magnetic limit switch system ensures maximum precision of movement and quick and easy adjustment

Magnetic pin

An exclusive feature of Bft operators enabling quicker installation steps, making them easier and always ensuring correct rear locking of the operator

Obstacle detection

The management and control system of the D-Track pair ensures maximum safety for people and property, as well as facilitating certification of the system.