Description
ATA PTX4 v2 SECURACODE REMOTE FEATURES:
Genuine original equipment remote
Free standard delivery Australia-Wide*
2 Year Manufacturers Warranty*
Each replacement remote comes with:

Brand New Remote
1 x Battery
Coding Instructions
Keyring Attachment
---
This remote replaces the extensively used ATA PTX4v1.  It features 4 grey buttons in circular design in a blue see-through case. An integral key-ring connection makes attachment easy and the rounded edges gives the remote a great feel in the hand. 
Working on 433.92MHz with ATA's own rolling code algorithm, this remote is great value for money.
IS THIS THE RIGHT REPLACEMENT REMOTE FOR ME?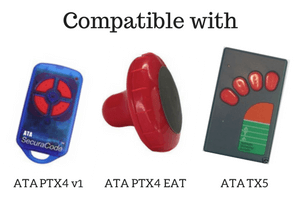 Remotes:

ATA PTX4v1

ATA TX5

Receivers

ATA CRX-1
ATA CRX-2

Garage Door Openers

ATA GD02v4
ATA GDO2v5
ATA GDo2v6
ATA GD02v7
ATA GD04v
ATA GDO4v4 (TX5 Red Button)
ATA GD04v5
ATA GDO4v6
ATA DGO5v1
ATA GD06v1
ATA GD06v2
ATA GD07v1
ATA GD08v1

ATA GD08v2

ATA GD09v1