Description
ATA PTX5 V2 GREY CASE FEATURES:
Genuine original replacement case
Free Standard Shipping Australia-wide*
2 Year Manufacturer Warranty*
Each replacement case comes with:
Front Casing with 4 Grey Buttons
Back Casing
Note:  This item does not include the electronics. This case is to replace cosmetic damage to the ATA PTX5 v1.  If you are requiring a full remote replacement you will need the ATA PTX5 v2 remote.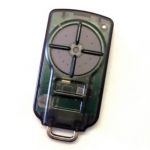 IS THIS THE RIGHT REPLACEMENT REMOTE FOR ME?
Does your PTX5 v2 remote have cosmetic damage?  If so, a case replacement might be just what is needed.  This is dependant on whether the electronics within the case are still in good working order.  Not sure?  Check out the blog post "Does my Gate/Garage Remote need replacing?"