THIS ITEM HAS BEEN DISCONTINUED BY MANUFACTURER.
You can purchase the newest design ATA PTX6 Remote
This new design is compatible with the entire B&D Tri Tran series including TB5, Tri Tran v1, Tri Tran v2 and the Tri Tran Mini remote
---
Features:
Genuine original equipment remote
Free standard delivery Australia-wide*
2 Year Manufacturers warranty*
Each replacement remote comes with:
Brand New Remote
1 x Battery
Coding Instructions
Keyring Attachment
The PTX2 is compatible with the following TrioCode Series Remotes: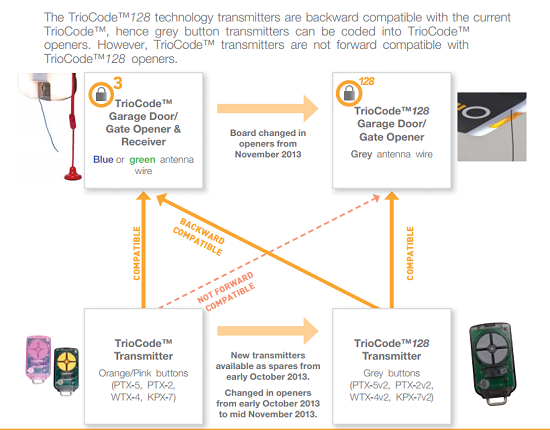 This remote replaces the original equipment ATA PTX2v1.  Featuring 2 grey buttons in circular design in a smoky grey see-through case. A rounded key-ring connection makes attachment easy and the curved edges gives the remote a great feel in the hand. Designed to be buried in the garden for emergency use.
Working on three frequencies one either side of 433.92MHz with ATA's own rolling code algorithm, this remote is great value.